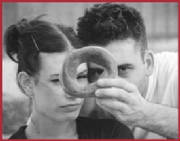 Tuesday February 22 at 7:30pm @Hillel (2020 W. University Avenue)
The Wisdom of the Pretzel (Chochmat Ha'bageleh)
Year: 2002
Language: Hebrew with English subtitles
Directir: Ilan Heitner
Length: 97 mins
Based on a true story, The Wisdom of the Pretzel is the film adaptation of the best-selling Israeli novel. Golan is disaffected Israeli supported by indulgent parent. At 30, he sees no point in getting a job, finding a wife or stopping the endless round of parties. But it only takes one blind date to challenge everything he has ever believed, about himself, about love and about the nature of life in contemporary Israel.
Wednesday February 23 @7:30pm @Hillel
(2020 W. UNIVERSITY AVE.)
Desperado Square
Year: 2001
Language: Hebrew with English subtitles
Director: Torati Beni
Length: 98 min
Rating: PG
A year after the death of Morris Mendevon, his son Nissim has a strange dream. In the dream, his father appears and orders him to reopen the old neighborhood cinema he had shut down twenty five years before his death. On that very day, Avram Medevon, Morris' brother, returns to the neighborhood after an absence of many years.
The Mendevon sons decide to screen the famous Indian film "Sangam" which used to be an old time neighbourhood hit. Their mother Seniora does not approve of the screening, but they insist. While searching for "Sangam", they find out that Avram Mendevon holds the only copy of the film, but he will give it to them on one condition...
As the brothers persist with their quest, new family secrets are to be revealed.
Thursday February 24 @ 7:30pm at Hillel
(2020 W. UNIVERSITY AVE.)
BONJOUR MISIEUR SHLOMI
Year: 2004
Language: Hebrew w/ English Subtitles
Director: Shemi Zarhin
Length: 1 hr. 38 min.
Not Rated
Sweet Israeli coming-of-age drama with a Good Will Hunting kind of vibe.
Shlomi takes care of everyone. He feeds his grandfather, bathes him and listens to his fictitious stories from World War II. He reminds his older brother to take his medication on time and intently listens to his pornographic thoughts. He calms his quick-tempered mother and mediates between her and his hypochondriac father who was thrown out of the house after cheating on her. He looks after his older sister's twins and makes sure she keeps going back to her husband who can't tell between the identical babies. And most of all, Shlomi makes sure to make everyone happy by cooking their favorite dishes. Shlomi knows--they'll eat and calm down. Because his home is a battlefield, Shlomi runs around between everyone, trying to make peace. But no one in the family really sees Shlomi. Even Shlomi doesn't see Shlomi. Until one day a routine math test arouses the suspicions of Shlomi's math teacher and school principal. After meeting and talking with him, they realize that a! very unique personality is hiding behind this neglected and dormant boy. With their help and the help of Rona, the gardener, with whom he falls head over heels in love, Shlomi discovers himself.